We offer an extensive range of Melbourne made 5 star Luxury Hotel Mattresses constructed from quality foams, fabrics and spring systems. These are a perfect choice for Bed and Breakfasts who want to offer luxury to their guests. We are also able to supply a more budget range of mattresses suitable for universities and other commercial installations. Our hotel mattresses can be tailor made to suit most clients/customers' needs and sizes; all with fast turnaround times.
We have several different spring systems available from budget bonnell spring to heavy duty pocket in pocket up to our 4D quad coil system that is 80% stronger than traditional pocket spring mattress systems.
Our Specialities Include
King Mattresses and Bases
King Split mattress and Bases
Super King mattresses and Bases
California King Mattresses and Bases
Euro King Mattresses and Bases
Fire Retardant Mattress
Waterproof Mattresses
Why choose us for your commercial mattress needs?
We have over 20 years of experience in the Hotel/Motel industry as a General Manager and licensee and have good knowledge and hands on experience with industry standards and requirements. We have many people come to us that are starting a new B&B or have been given a position in an organization and really don't know much about mattresses. That's ok, we will walk you through the process and explain each product so you have a clear understanding and can make an informed decision. We are happy for you to make an appointment and We'll explain the entire range personally.
Our existing customers range from Hotels, Motels & 3-5 star Bed and Breakfast, through to Universities, Backpackers' Accommodation and Children's Camps. Visit our Melbourne showroom located in Kilsyth to view just some of our Hotel and commercial mattress range.
Popular Mattress Sizes for Luxury Hotel Mattresses
Here are the most popular mattress sizes for our Luxury Hotel Mattresses. Talk to our friendly staff for more details about our range of Luxury Hotel Mattresses and the best mattress sizes for your needs. You can contact our team by phone on 03 8761 6999 or we look forward to your contact via our enquiry form.
California King Sized Luxury Hotel Mattress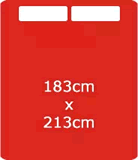 Super King Sized
Luxury Hotel Mattress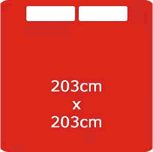 Euro Super King Sized Luxury Hotel Mattress